24th June 2021
CTT Webinar by Ashutosh Phadke
- Jun 08th 2021
Speaker's Name: Ashutosh Phadke, Senior HR Leader, Strategist, Consultant, Advisor, Coach and Educator; ex-HR Director, India, MEA, SEA – General Mills
Session Date and Time: 24th June, 2021, 7:00 – 8:00 pm IST
Session Title: The Coaching assignment– the organisation's viewpoint.
About the Speaker:
Ashutosh Phadke is a Senior HR Leader, Strategist, Consultant, Advisor, Coach and Educator; ex-HR Director, India, MEA, SEA – General Mills.
He opted to exit fulltime corporate life after 35 years rich and varied track record of HR leadership in Multinational and Indian companies in the FMCG, Chemicals, Financial Services, and Shared Services domains. He is passionate about creating change and helping people develop and evolve. Ashutosh has professional credentials in psychometric testing, with rich and varied ongoing coaching experiences, thus creating a unique blend of expertise and experience.
Excited to continue to contribute to the HR field in project-based, retainer and part-time assignments which will leverage his capabilities in HR strategy, organisation structures, talent management, job evaluation, compensation & benefits, learning & development, employee engagement, opinion surveys, coaching and mentoring, business partnership and leadership development.
In his last role as HR Director for India, MEA, SEA with General Mills, Ashutosh was the principal HR leader for all HR business support, strategy, development, operations and change management activities for three sub-regions within Asia. Responsible for setting up Shared Services unit for General Mills in Mumbai. Headed multi-location multi-cultural teams.
In previous roles with IL&FS, Ciba-Geigy and Mondelez, he has performed roles of increasing complexity across all areas of HR; built and led teams and organisations to success and achievement.
About the Session:
This session explores 3 themes:
1. What does an organisation look for in an executive coach?
2. What are the expectations of the organisation from the executive coach before, during and after an assignment?
3. How does the effectiveness and ROI of an executive coaching assignment get measured by the organisation?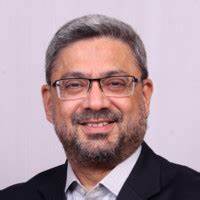 Ashutosh Phadke