Yoga Psychology Certification Program | Coach-To-Transformation
Yoga is a way of knowledge, a science. Yoga proceeds systematically to study, explore and unlock the various powers, faculties and levels of awareness within us. Yoga philosophy is a practical philosophy of self-observation and inner inquiry. We learn by applying it in our daily lives', Frawley, 2008
What does Yoga Psychology mean?
Yoga psychology is a positive science. It analyses human personality and sets ideals and prescribes techniques to achieve growth of human mind. Thus, expansion of consciousness and making oneself the master of his/her mind are the broad objectives of yoga psychology. Mind as described by Freud in terms of conscious, subconscious and unconscious levels was well detailed in the yogic literature, thousands of years ago. The sound practice of yoga enables one to have a disease-free body and keen intellect. Consciousness has a wider meaning in yoga. Balance is the central principle in yoga psychology, and any sort of imbalance in the system— physical or psychological— creates disorders and the solution lies in rebalancing it. Yoga psychology is an applied science. It deals at large with the application and benefits of yogic practices in developing one's personality traits and leveraging them further to experience a blissful life.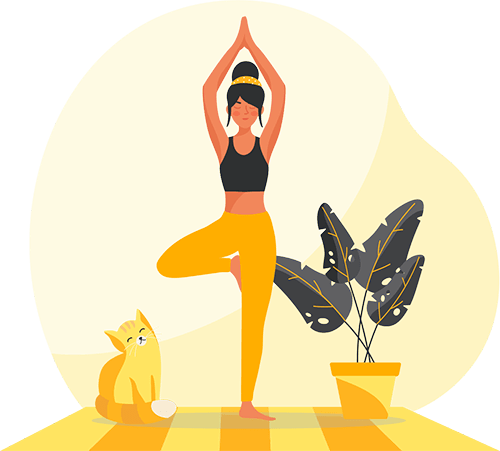 Why Yoga and how is it relevant to
Coaching?
The coaching profession today is entrusted with a responsibility perhaps far greater than we even imagine. Through the leaders and organisations, we engage with, we impact the lives of countless people across the world. As key influencers, we have to rise to this challenge – to do the right thing by our clients and by society, to be rooted in dharma. Yoga psychology is a time tested, scientific study of the human mind. Click to enroll for the program and become a certified yoga psychology coach.
As coaches, it becomes critical for us to comprehend the mind's working. This insight enables us to have greater presence, listen to truly understand and to ask deeper and more powerful questions. Yoga psychology offers frameworks and models of the personality complex and offers opportunities to address some of life's biggest questions – what is the purpose of life, what motivates human endeavor, what are the obstacles to change – to cite just a few.
Coaches need to first manage their own selves – their own beliefs and understanding, attitudes and behaviors before the coaching relationship. In the light of this, it is pertinent to look at the science of Yoga Psychology and how it applies to coaching.
Why choose Coach-To-Transformation's
Yoga Psychology and Coaching Certification
program?
Coach-To-Transformation's Yoga Psychology and Coaching Certification Program helps coaches connect Coaching with the age old wisdom of yoga psychology. The Yoga Psychology Program enhances their self-awareness and thereby their own presence – personally and professionally. It also provides coaches with frameworks, models and tools to experiment with and deploy in their coaching practice. Coach-to-Transformation's Yoga Psychology program is so designed as to provide individual attention and mentoring to each participant. Practice sessions embedded within the program help Coaches practice the application of Yoga psychology principles to the coaching practice.
These insights would enable coaches to have a greater presence, understand through listening and ask deeper and more powerful questions.
Program Structure for Yoga
Psychology Certification Coaching
30 Hours
(Online / Virtual)
Classroom
training

Mentoring &
Supervision calls

Assignments &
Reading material

Practice
Sessions

Total elapsed
time – 4 months
Who can benefit from Yoga Psychology
and Coaching Certification Program?
Coach-To-Transformation's Yoga Psychology and Coaching Certification program is beneficial for:
For Coaches seeking to apply for or renew credentials. 30 CCE Units will be given to attendees.

For certified Coaches or soon to be interested in exploring the links between Coaching, Yoga Psychology
and Presence

For Coaches who aspire to great coaching and are looking for creating their own practical path for continuous self-growth and presence

Coach-To-Transformation's Yoga Psychology Program is developed to help ICF-credentialed coaches or equivalent in standard, gain an in-depth knowledge of cutting edge research on the application of Yoga for wellness, self-development and inner leadership and meet their commitment to continuous self-growth through gaining CCEUs for required renewals or the
pursuit of credentials.
How will you benefit from Coach-To-Transformation's Yoga
Psychology and Coaching Certification Program:
Greater depth of
coaching presence.
Increased
self awareness.
Enhanced ability to
ask powerful question
The center of our universe-our

students OR our coaches.

Here is why they like us
"The programme enabled me to connect with many of my Indian clients much more effectively and easily. Our culture is hard-wired into us and Yoga psychology enabled me to connect into that hard-wiring. As a consequence my coaching quality improved and I could see my clients ability to think through and talk about themselves improve when I brought in Yoga psychology words and concepts. Rajas-Tamasic-Satvik is one example. At a coach level I think yoga psychology is a great way to get to "not knowing" – the ICF competency No 4"
" In my quest to find techniques to silence my inner chatter, create more self-awareness and become more present in the moment, this course covered all areas! In fact, I gained so much more than I had initially envisaged or hoped for! I have been able to deepen my self-awareness in such ways I don't feel I could have achieved elsewhere. By exploring the concepts of yoga psychology, the journey of self-awareness felt more rapid and there have been many "light-bulb" moments! I thoroughly enjoyed the course. Alka and Atul have such a wonderful manner through which they were able to successfully create a relaxed and secure environment in which learning thrived. Being over 4,000 miles away and participating online, I felt I was participating in a highly focused, smooth, relevant course that was executed very well. My understanding of yoga psychology concepts now impacts my thought processes and questioning in my daily life as well as in the coaching process. From my experience so far in applying yoga psychology concepts and frameworks to my own issues or others', I have felt the pace at which awareness comes is accelerated as, often, I find I can to get to the 'heart of the issue'! I would go as far as to suggest that Yoga Psychology should be a course for all coaches to undertake before and during their career. For me, it has heightened awareness within me of that which holds me back as a coach. Additionally, for those like me starting out as a coach, yoga psychology has afforded me insight as to what my barriers are which need to be overcome as I start to build and grow my own business."
Faq's
(Frequently Asked Questions)
The program is designed for Certified Coaches or for Coach in the process to be a Certified Coach (currently pursuing a coaching certification program).
No prerequisite concerning the practice of Yoga on or beyond the mat is required. We welcome any coach interested in growing their presence whatever their level of familiarity with Yoga.
The physical practice of Yoga is not the main purpose of the Yoga Psychology Program, rather the study of the mind and the learning of the Yoga Psychology on that topic. That said, breathing techniques and simple asanas will be practiced to condition ourselves, to help us to turn our gaze inward and calm our busy mind.
Absolutely. Participant interaction is said to be the hallmark of the Yoga Psychology Program. Coaches will not only share their thoughts, reflections, coaching practice through assignments and group practice, but will also be invited to take part at the Reciprocal Peer Coaching Program.
The program leads to a 30-hour certification as part of Coach-To-Transformation program approved by ICF under ACSTH path. 30 CCEU's will be given to certified participants of which 24 units are core competencies and 6 units are resource development.
The program will help you to gather 30 CCEU's that will complement the total necessary for the pursuit of the desired level.
Enquire Now
At Coach-to-transformation we understand every Organization is unique and so are its
people and their needs. All our Coaching Programs are completely customisable and can
be curated around your specific issues and time at hand.
To sign up check our training calendar