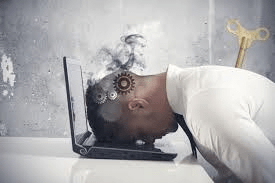 More work = Burnout; REALLY???
- Mar 27th 2018
"I need a break..I am burntout totally" – how common do we speak or hear these sentences? Its familiar- have been working really hard, too busy and now need a break. At times you also hear the reverse- I don't want to make more money cos to make more money, I will have to work hard and I don't want to work that hard.
We associate time and energy with money. We think that our hard work creates money and so if we put in more and more hard work or effort, then only we can make more and more money. But the fact is what creates money is actually the value and results. More value we create, more results it produces and more money it makes. In doing all this, we start screaming- I am burning out.
If we do not want to get burnt out, we should first know what burnout is and what causes it. People think that burnout is caused by working long hours, working over weekends or working too hard. Fact is one can work for many hours and still not get burnt out. It's about the attitude around the work that causes burn out. Burn out can be caused if planning is poor, people are stressed out in thinking and there is a continuous thinking of scarcity.
When one is trying to resist failure, that's when the person will be stressed all the time and that's when there will be scarcity. When planning is not done well, one would end up fire-fighting. One ends up dealing with crisis all the time. Adrenaline levels are consistently high declaring emergency to brain. This will cause a burnout.
Question is how to decide whether one needs to take a break and rest or not? For that it is important to distinguish between a burnout and being overwhelmed. If one is  overwhelmed, person will be confused, will procrastinate, will not have clear plans and will always say- "I don't know what to do?"
In this case taking a break and resting is not the solution. Solution is to plan well and then do more. Overwhelming happens not when there is a long to-do list but when there is humungous chatter of thoughts which makes a person confused and 'appear' busy. Solution for somebody who is overwhelmed is to plan, plan and plan and then execute, execute and execute the plan.
So, how does Burnout look? There is immense clarity on what to do, one has planned well, executed well and is very high on productivity. Thoughts are positive, producing great results and one thinks that he/she can make up with it for more, more, more and then the plans start getting unreasonable. In the growth journey, results start taking more importance than the journey. This is where burnout results. One starts feeling by doing more here, there is a better there.  This is the time one needs to take rest. One needs to slow down and enjoy the journey of growth and not run behind the results. One needs to understand that life won't be better there than here. Journey has to be enjoyable for the results to be better. There is no need to rush, no need to hurry. One needs to understand there is abundance and no scarcity. One needs to plan for space and rest on purpose and reenergize oneself.
So, classic difference between burnout and overwhelm is that in burnout one is producing results whilst in overwhelm there are no results. In burnout one is in a hurry to product next result whereas in overwhelming state, person is lost about what to do next and is procrastinating. Take rest in a situation of burnout and plan well and execute if you are overwhelmed.
So, are you Burntout or Overwhelmed?