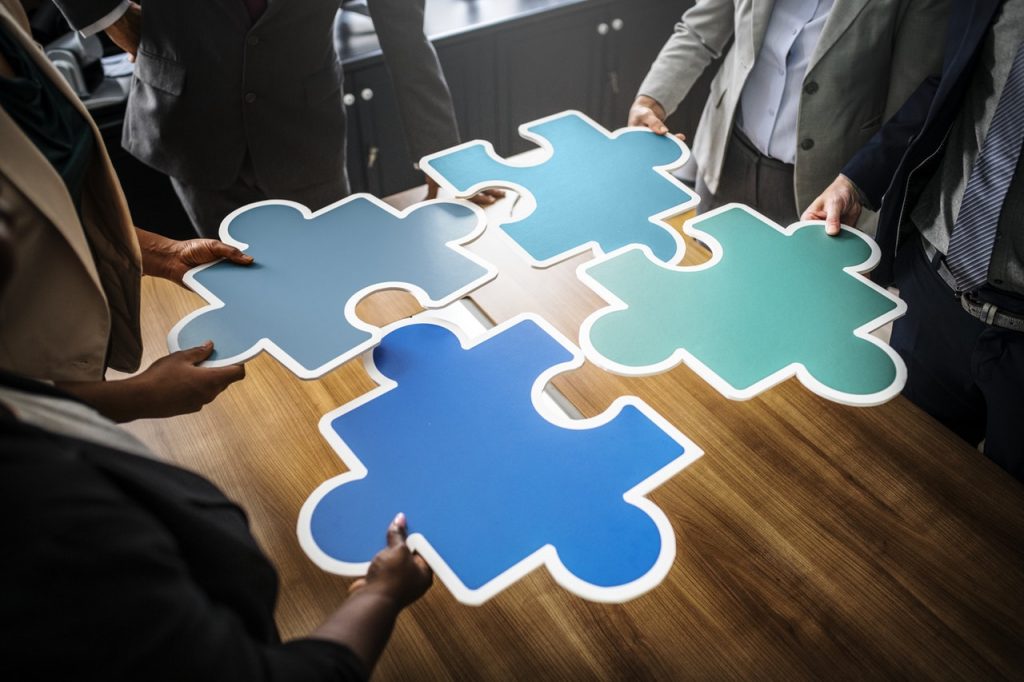 What is Group Coaching?
- Jun 04th 2018
What is Group Coaching?
At its heart, group coaching is basically all about creating action, decision and self-discovery within a group. However, what does that really mean? In traditional coaching, there's a powerful and direct relationship between the client and coach whereby the coach makes room for direct learning and conversation. When it comes to group coaching, on the other hand, the coach involved doesn't have that as their primary role. In this type of coaching the coach provides and encourages an exploratory and learning space between all the group members involved.
Look at it this way, imagine each individual in the group has with them a well of questions, knowledge, concerns, strength and certain capabilities. Normally, during the first meeting, each individual brings their private wells, but, they're initially watertight and walled off. This type of coaching's main objective is to bring down the individual walls of these wells in order to create a pool whereby members of the group can have access to the combined ideas, knowledge, passion and wisdom in the room. It does all this while maintaining the respect of the privacy of these wells. It only requires what each person in the group is willing to give and how much of it they want to share.
This type of coaching can be done over several group meetings or just one. It can be done using telecommunication, for instance, over the Internet or phone and such things like that, or it can be a face to face thing. External facilitation of groups is where the person coaching doesn't get coached and doesn't do coaching. In contrast, self-facilitated groups are where all, some or one of the group members have the responsibility of facilitating.
Many people distinguish between team coaching and group coaching. They usually define a team as being a group of individuals whose members share similar goals and purpose and work with each other in the same organization.
APPROACH FORMATS OF GROUP COACHING
You can incorporate several different approaches when it comes to group coaching. The teams your working with or the general preferences of the group, as well as your own coaching style, is what will determine which approach is most suitable for that particular group. Herein below are some of the most common formats.
1. PEER COACHING AND GROUP DISCUSSION
Most coaches will introduce peer coaching as one of the components of their program, particularly when it concerns this coaching technique. Peer coaching basically involves peer to peer conversations, sharing, questioning and accountability. You can include peer coaching opportunities throughout the whole coaching process, for example, in between group sessions or during group discussions.
2. LASER COACHING
Typically, laser coaching involves brief bursts of one on one coaching during sessions. It entails spending about seven to ten minutes coaching individual group members on topics of their choice or that is related to the general group topic. This format work best in small groups, however, you can also use it on large groups as well. Coaches will ensure that those that want laser coaching get a chance to do so. The rest of the members of the group should pay keen attention to the questions you're asking the individual being laser coached and determine how it impacts each one of them.
3. LEARNING PARTNERS/BUDDIES
In the spirit of keeping the conversation going, learning buddies or partners may be created or assigned at the beginning of the group coaching process to help meet the coaching touch points. A few of the several benefits of assigning learning buddies include trust, intimacy and connection within the group, as well as deepen the conversations around the key topics. Usually, when a learning partner is incorporated in organizational programming, the new relationships they foster help encourage enhanced capacity development.
4. HYBRID APPROACH FORMAT
The hybrid approach formats are a blend of group coaching and one on one conversations. It can be extremely useful in contexts involving this coaching technique. Participants get both individual conversation depths as well as the breadth of group coaching conversations. This type of approach keeps the coach involved focusing on common interest areas and core foundations of the group being coached. It gives the opportunity for each individual client involved in the program to explore their own personal interest areas in a much more focused manner.
5. INDIVIDUAL REFLECTION
This approach usually involves providing members with questions for purposes of reflection and writing upon or structured journaling. The opportunities of this approach are effective between sessions, during ongoing sessions, in-person or online. The integration of activities involving individual reflection approaches happens to be extremely useful in the situations where team/group members are more introverted or aren't necessarily verbal processors. This approach formats provide team/group members with an opportunity of capturing their thoughts. It is also ideal when dealing with groups that happen to be very diverse.
BENEFITS OF GROUP COACHING
1. DISTRIBUTION OF OBSTACLES
The energy created by each person in the group usually acts and eventually becomes a distributor of difficulties and obstacles. The fact that there're several participants means that each individual will consciously seek ways of helping other members of the group find proper solutions for arising impediments when moving toward one's outcome as well as putting new and fresh ideas into action. An individual working on their own to achieve their own personal goals do not exist in this coaching technique.
2. INCREASES THE PROBABILITY OF ACHIEVING GOALS
Each member of the group will realize that the likelihood of surpassing or reaching their desired target goals is significantly enhanced when going through this type of coaching experience. This is largely due to the experience, the energy created, solutions and ideas shared, along with the support a group provides. Sometimes progressing in the company of a group is much easier than doing it all by yourself. This is actually what makes this coaching technique so great.
3. EXPANDING SOCIAL CAPITAL AND ENRICHING RELATIONSHIPS
Most people are willing to learn and at the same time be coached and those people that share similar goals find it comfortable to come together to work on them in the group They start to form bonds within contexts of open, mutually-supportive, positive, challenging and participative coaching environments. Many of these relationships that have been formed during these coaching groups continue to grow and blossom over the span of a lifetime.
4. MULTIPLE PERSPECTIVES
When you have other people around you that are also moving toward similar goals you all share, each participant is then given the opportunity of learning from the other members' point of view and if they hear something they think can help, they can immediately adopt those perspectives in order to expand how they themselves see things. Those that have limiting beliefs are the ones that greatly benefit from such a program. This is because this coaching experience exposes them to several different ways of tackling the same issue, when maybe they only saw one way. This exposure gives them a chance to leapfrog through different perspectives until they find the perfect one that works for them.
5. CHALLENGE AND SUPPORT
A coaching group usually provides a great deal of support and encouragement. That support and encouragement provided are enough to motivate as well as inspire each member of the group to attain their desired targets and goals. This is very helpful especially in situations where you've encountered certain obstacles and problems, as they normally do when one attempts to get out of their comfort zone and move into new levels of achievements they may not yet be fully ready for. Simultaneously, within contexts of trusting and positive environments, members usually feel free challenging each other to reach for bigger and more empowering sets of goals. This not only raises the quality bar but, it pushes each member to seek to attain mastery in all their situations as well, whatever they may be.
6. SCALABILITY
In most offices and organizations that have an evolving or established coaching culture, one of the key benefits tied to the group coaching technique is scalability. The cascading involvement of the organization's lower level professionals is supported when coaching using this technique. For instance, organizations and businesses may look to sustain conversations after training initiatives by offering group coaching programs as well as design group coaching programs for incoming managers.
7. ACCELERATED MOTIVATION
Participants in the group meet together with the intention of achieving their own personal goals, however, they also, in the group context, make commitments to themselves for completing actions that have been discussed during group sessions. This, in turn, helps encourage increased levels of accountability, which inevitably goes on to generate increased motivation which also then leads to the acceleration of each members problems.
8. CONFIDENTIALITY AND AFFORDABILITY
Those things that have been discussed during the session remain confidential. Although the discussions regarding practices and topics between members, in between sessions, is normally encouraged, the content, comments and information shared stays within the group. Also, many clients will find that group coaching is way more affordable than individual coaching.
WHEN TO USE GROUP COACHING
Conversations in group coaching typically bring a small group of peers together in ongoing coaching conversations. Whether in person or virtual, group coaching normally encourages intimate conversation spaces with most teams having about four to eight members. However, in reality, some can have as much as fifteen people which are the ICF's maximum size requirement.
The best time to use group coaching techniques are when you want to enhance leadership development. There are many ways organizations and businesses can use this type of coaching to promote as well as enhance leadership development. Some of the ways this coaching technique does this are by creating group coaching programs that stand alone whereby around four to twelve group leaders are brought in to discuss regular coaching conversations. This type of coaching technique also helps extend the conversations following ongoing leadership curricula and training.
This type of coaching also makes the building of teams much easier. You can build effective teams from the coaching groups. This is because, in order to create an engaged team, the group coaching technique helps form emotional bonds between the members of the group, Appreciative inquiry helps transform groups that seem disparate into one cohesive unit. The relationships built during group sessions as well as all the other factors, mentioned above, put together are what makes it possible to build a very effective team using group coaching
If you want to enhance emotional intelligence then a group coaching program is what you need to start considering. Self-awareness is all that individual coaching leads to. However, in group-based coaching, the coaches involved here have the ability to demonstrate and create the combined power of both social as well as self awareness. This possibility will eventually provide you with significant implications when attempting to transform organizational culture using enhanced emotional intelligence. Since significant and sustainable cultural changes in most organizations usually require group intervention, group coaching becomes extremely relevant.
Organizations can also set outcomes based on ROI when they use group coaching. Setting goals that rise above a particular individual's scope can tend to be very difficult to do at times. Especially in areas that may not be controlled by the organization directly. Cross-functional members can be used to form groups which are then used to tackle the various aspects of your business issue. Companies and organizations can set timeline, realistic, achievable, measurable and specific goals. These goals can be measured using a return on investment criteria. Additionally, in regard to both the quantitative and qualitative terms within accountability limits, each individual's outcome can be measured.
Finally, group coaching creates synergy. So, if that is what you are looking to do, then it's best if you were to use group coaching techniques. Participant insights combined with synergistic strengths help provide a high level of energy multiplication and it's all due to the techniques employed in this coaching process that makes all these things possible in the first place. A group coaching program is not only innovative but creative as well. Sharing insights and ideas among group members, during group sessions, can help foster very strong personal transformations as well. This coaching process can be used in a wide variety of situations and can be used to achieve many things.