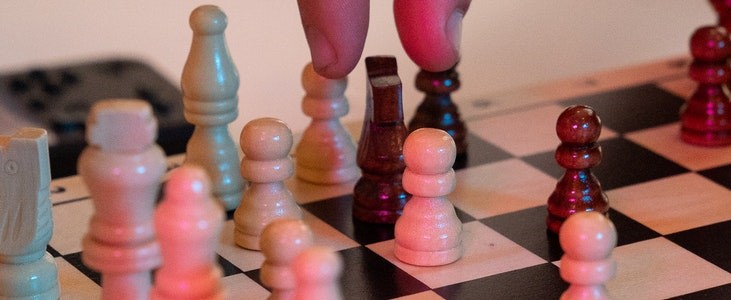 The year of the Queen's Gambit – 2020
- Jul 29th 2021
One of the leading lifesavers of this entire pandemic lockdown has undeniably been Netflix. People who could afford or could hook up to a generous giver's account found succour in the many entertainment options available on the platform. Amongst the best-received Netflix Originals of the year, was The Queens' Gambit, a 7 – part limited series based on a fictional character – Beth Harmon, an orphaned chess prodigy who rose to the top of the chess world while struggling with severe emotional problems, drug and alcohol addiction (spoiler alert!).
This series inspired what is now called 'the queen's gambit effect' – massive purchases of chess boards, books and traffic on chess fan sites. For those who haven't caught the bug, chess is a board game played by two people and is widely known for its manoeuvring and strategic planning tactics to defeat your opponent's pieces and eventually take their king. All you need to remember is that your opponent has the same strategy in mind, so knowing which of your pieces to sacrifice while strategizing your victory is the overall goal.
In the game of chess, the 'queen's gambit' is an opening strategy that focuses on an attacking play whereby the player using the white chess pieces appears to sacrifice one of its pawns to gain control of the centre of the board. When the white starts with this strategy, black can either accept or decline the Queen's gambit. However, if black decides the former, it has to concede his pawn and focus on counter-attacking white's advances.
The year 2020 and the first half of 2021 threw us all quite a queen's gambit – movement restrictions, job losses for some, civil disturbances, recessions and loss of loved ones. It left us all reeling from its opening gambit.
Now that things are slowly on the move and some months still left, my question is; what if you get hit with another 'queen's gambit' move? How would you defend your 'king' aka your turf and still win the game? Would you be on constant defense by accepting whatever is thrown, to save your king? Or would you decline the gambit and choose to centre your pawn, focusing on the goal of winning the long run rather than accepting a cramped position?
Whatever the choice made, the fulcrum has to be mental and physical wellbeing for the long haul while focusing on relationships. An alternate way of working and building personal and business strategies that have more profound and meaningful purposes in our work has to become the new normal.
The last year and a half has succinctly shown life's uncertainty as factors beyond our control determined how we lived therefore, just as game of chess it is essential to plan the rest of the year carefully. Being more purposeful with available resources, understanding what is of importance in life and how a life of purpose and meaning is more significant than any other acquisition has been the learning so far.
By devising a good opening you avert falling into traps, get yourself to a good position in the middle game and get time to plan ahead. Life is a game that consistently deals with different game-plays and players with the choice to decide how best to play those cards. Let's play wisely.
Author Name: Gbemisola Atimomo
Gbemi is a Human Resource Leader working with a leading Pharmaceutical company and with over 16 years' experienceworking in multinational companies in Banking, Fast Moving Consumer Goods and Pharmaceutical Industries. She is passionate about helping people become MORE.
Program Attended with CTT:ICF Coach Certification Program Level 1
Reason for taking this program:Desire to learn more about Coaching and how to use the skill more on the job
What worked for you:The CTT facilitators were brilliant and very passionate about coaching and helped demystify the concept. The sessions were very practical especially the peer coaching sessions during the class and I got a lot from the feedback sessions afterwards
What benefits you got:Coaching is definitely a life skill especially for leaders. The competencies and formal knowledge are very relevant however more important is focusing on what the client needs and just letting it the conversation and experience be.