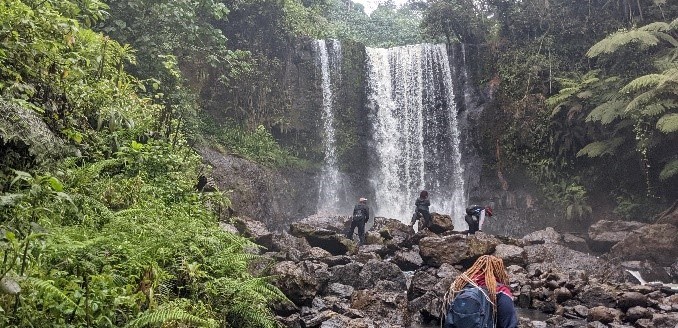 Teach us to number our days!
- Jul 29th 2021
Physical activity and exercise is a great way to enhance our wellbeing and manage our mental health. Precisely why any opportunity to go out and breathe fresh air, burn calories with walking, running, hiking or doing weights is always a welcome break.
I like pushing my limits so weight training works for me. Also I've started to build this new relationship with my workout buddies and my trainers, to help me push my limits even further, though sometimes I feel my trainer might be an agent from hell sent to kill me! But when we are done, I feel grateful for their support.
So when my trainer invited me to join the hike to Kieni forest, I felt obligated to participate as a show of support for his side hustle and also to test my fitness level. All this panting, sweating and carrying metal cannot be wasted just like that. Little did I know that this would be a weird lesson in survival or healing!

Let me tell you a little about Kieni forest.
Kieni Forest located on the southern side of Aberdares (home to the famous Lake Naivasha and Mount Kenya), presents an uncommon spectacle of natural and human activities. The path winds through well-manicured tea plantations called Gakoe tea estate, with its stunning green carpet covering roughly 400 acres, into a thick forest into the breathtaking sight of three waterfalls as brilliant as daylight. If you aspire to be the ultimate hiker, this 18-kilometre Kieni Forest route is the ideal place to start.
The most beautiful part of Kieni forest is also the most challenging terrain, which any seasoned hiker will confirm. So tough is the terrain that there are no pictures of it available online as all one is trying to do is stay alive! No time to click as your fingers adjust to the freezing temperatures fluctuating between 8 – 10 degrees Celsius. Everyone keeps an eye on the trail to not slip as it changes so fast… one moment, you are sliding down on your behind because there is no way you can survive going downhill without rolling all over and the next, you are clinging to shrubs close by to pull you up the trail. At a point, we were at 2,240 metres above sea level with an elevation gain of 465m!
Most hikes gets you a few meters or even kilometers of respite before getting tricky, but at Kieni we were already sliding downhill on the slippery path before even crossing 50m into the hike, holding on to our dear lives.
High energy, major endorphins, my friends!
When you exercise and go through intense body conditioning, it sometimes feels like a survival game. You feel like asking yourself 'how can I put my body through this much torture'? For a moment here I understood what running out of oxygen felt like, while pulling (tearing) off my outerwear to for some relief and desperately breathing in air to recover. I had felt the same while doing the weight sled workout.
When going through complex or unusual life experiences, you sometimes get confused on how to survive and make it through. In my personal experience, embracing all the emotions you experience on the journey to survival and healing is a big step forward; however, staying there is never a choice.
For a moment, while on the hiking trail, I started to ask myself questions like; what am I doing here? Why put my body through this much pain just to say, "I have conquered Kieni forest"? At a point, I felt that same 'passing out' feeling, with shortness of breath thanks to the altitude. And then I thought, I have been here before, and I survived. I survived the weight sled. I lived, and I go back every Wednesday, and I survive.
The good book says – teach us to number our days that we may gain a heart of wisdom.
This is a quote to remind you of all your little and big battles won and survived. The enemy is not just the devil, but also our thoughts that make us blame ourselves or wonder if we can survive or ever heal. My dear, you've fought and won. You have been here before and done it again!
Learn to remember those days you survived, to count and celebrate your small wins! Love yourself and learn how to be kind to yourself.
By the way, in a few months, I will be attempting to climb Mount Kenya. Watch me survive this!
Author Name: Gbemisola Atimomo
Gbemi is a Human Resource Leader working with a leading Pharmaceutical company and with over 16 years' experienceworking in multinational companies in Banking, Fast Moving Consumer Goods and Pharmaceutical Industries. She is passionate about helping people become MORE.
Program Attended with CTT:ICF Coach Certification Program Level 1
Reason for taking this program:Desire to learn more about Coaching and how to use the skill more on the job
What worked for you:The CTT facilitators were brilliant and very passionate about coaching and helped demystify the concept. The sessions were very practical especially the peer coaching sessions during the class and I got a lot from the feedback sessions afterwards
What benefits you got:Coaching is definitely a life skill especially for leaders. The competencies and formal knowledge are very relevant however more important is focusing on what the client needs and just letting it the conversation and experience be.