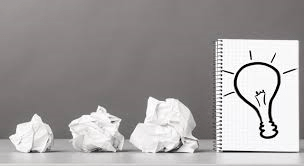 Wheel of Life
- Mar 06th 2018
'Mistakes are a powerful gift; don't leave the lessons within them concealed…'
We are constantly told we learn from our mistakes (very often when someone is trying to make you feel better about just having made a mistake!) But how comfortable do we really feel about putting ourselves
'out there'
, this is as much a comment on how we feel about ourselves as it is about how others perceive us. All the neuro-science tells us that synapses ping and pop into action (layman's term) as our brains wrestle and grow with the challenges a potential mistake presents to the contents of our cranium: quite the opposite of the response to always being right creating a sea of tranquillity ( another layman's metaphor!). At a recent training event, colleagues were asked to write a brief sentence on a blank piece of paper and to deliberately include a grammatical error; the look of horror and shock on the assembled faces was clear to see - "a mistake, you want me to make a mistake?!?" Task completed, they vented their frustration by throwing the piece of paper across the room; the final act unfolded as the anxiety levels reached a palpable level as someone else was told to pick up their paper and correct it, 'will they find the mistake; was it too obvious?'. We appear to have been programmed to fear failure and this clearly fed the responses we received on the day, however, is it possible to create a climate in which we can we turn that perception of negativity relating to mistakes into a positive? Attempting to avoid the apparent negative event is an exercise in futility – "Shit happens", one of the biggest mistakes you can make in life is to believe we are always right; making mistakes is when you learn most about yourself… honestly, I can vouch for that! I have childhood memories at school at a time when mistakes were certainly NOT celebrated; when judgements came thick and fast; as marked test papers were thrown back across a crowded classroom usually accompanied by ritual humiliation, a cutting one-liner leading to another sizeable dent to our fragile confidence. As I am writing this, I am experiencing a very emotional response and as a coach I am asking myself 'what is making you feel this way after all these years'; how profound was the damage done? How negative was that experience of school? Day to day experiences have a habit of washing over us, we neither challenge or feel challenged. It is important to be able to self-regulate and be emotionally intuitive enough to be able to recognise when we have entered 'the rut' otherwise and often referred to as 'The Comfort Zone'. We should ask ourselves how long should I stay here? Am I stagnating? What is the motivation to leave? But leave we must! Take that leap of faith and lay yourself bare to new challenges; 'feel the fear and do it anyway'. We just need to look at the rewards:
an opportunity to strengthen our character
an opportunity to strengthen our self-worth
an opportunity to strengthen our minds and soak up new learning
Learning the art of coaching takes time. Remember that first coaching session in front of your peers? I now reflect on how I would feel if I had passed over that opportunity for fear of making a mistake and looking foolish. I have now left my comfort zone; I have created a new chapter for myself; I have left the childhood memories behind and am open to the new learning ahead – and I am fully prepared to make as many mistakes as it takes to reach my potential personally and professionally. I am reminded of the lyrics from the LCD Sound System: "Come laughing at everything we thought was important, whilst still making mistakes that you thought you had learned from" Just accepting that mistakes are a part of the cycle of life, sometimes we learn from them; sometimes we forget the lessons and repeat the same mistakes again – but learn next time - but that's life! So let's embrace it!