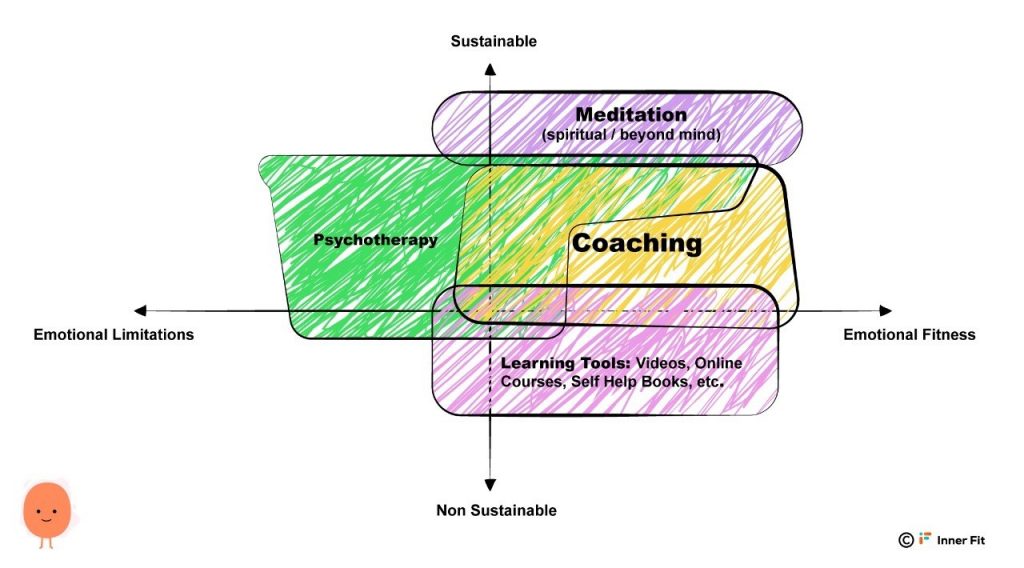 What's beyond IQ? Accelerate your success with Emotional Fitness
- Jan 12th 2021
We've all been there.
This feeling where we are continually striving to do our best, and categorically, succeed in our careers. Bonus points if the success is exponential. As the internet would say, 'Hustle Hard', but then again, the Internet doesn't come with disclaimers. See, because this 'hustle' comes with a whole lot of fine print. Most importantly, it brings out our underlying patterns that inhibit our performance and happiness.
How can that happen?
Let's make it easier, and list out a few examples. How many of these can you relate to?

When things don't go well I get really stuck
I have trouble saying 'no,'
I have trouble collaborating with difficult people, etc.
If you answered with a 'yes' to any of these statements, I have some news for you. Over time, we've seen the impact of techniques rooted in psychology, coaching, meditation, and behavioral science in our (and many others) lives. Long story short, these proven techniques help you deal with difficult situations much better. But yet, it can all seem….overwhelming.
Here's when we go back to the basics.
Identify what's limiting you?
In your path towards your aspirations, what do you think limits you the most? Or what is getting in the way of reaching your maximum potential? Two prevalent conditions are listed below.   Which of these two categories do you most identify with?

| | |
| --- | --- |
| Emotional limitations | Success limitations (aka Emotional Fitness) |
| Anxiety, lack of motivation & energy, depression, stress, constant troubling thoughts, emotions that get easily aroused, (overly reactive), etc. | Lack of clear goals, collaboration, communication, confidence, dealing with difficult people/situations, impulsive decision making, time management, etc. |
It can be beneficial to explore this spectrum of 'Emotional Fitness.' Where you lie on this can be discovered with some simple questions. Let's start with this first question.

What kind of changes are you looking for?
Change works at different levels. First and foremost, you need to know what kind of changes you are looking for..Non-Sustainable changes are often superficial changes that may not last. Sustainable changes are much more complete and more in-depth, and these changes last over time. Are you looking for sustainable benefits (and, more importantly, ready to commit to achieving this?
Non-Sustainable
Surface knowing: We all know that excessive stress is not helpful. But how does knowing this crucial bit of information help? How many insights have you learned from self-help books/videos, and how many of these have become part of your life?
Surface doing: is what you do. It's the actions you take. It's the decisions you make. It's your behavior and all its visible manifestations. However, when we struggle to change our behaviors on the 'surface doing' level, we realize that what we are doing is not working, and we are stuck.
Sustainable
Authentic or Inner Being: is who you are. It's what's underneath all of the 'doing.' It's your qualities, your thought patterns, and your conditioning. It's the pattern of beliefs that you hold about yourself and your environment. For new actions to stick, this ' authentic being' level needs to change too.
Here's a quick example: The more confidence you feel, the more you will project this outwardly. Without improving your authentic being, it is difficult just to practice being confident. It will only take you so far.
Which of these solutions will help you the most?
Now let's put both these axes together.
 This illustration results from my understanding after having worked with world experts and researchers in psychotherapy, coaching, meditation, etc., and testing these very same methods on 1000's of users.
Let's get started to accelerate your success with Emotional Fitness.