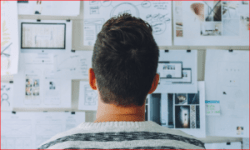 Principles of IDK
- Sep 03rd 2018
Throughout my work life I was trained to assess things, situations, people, and to ace at problem solving.
We go from being a doer and implementer, to thinker, to show and tell, to role model, to lead and to inspire. A roadmap, a straw model, a business framework, call it what you want, we craft it with such meticulous detail always with a deadline that is too short.
The goal is to Know the problem and Know the solution.
That's what I know, and I thought it was good. All that flies out ……..when you start coaching.
In my coaching journey, the biggest lesson I learnt so far is – I DON'T KNOW!
When I started coaching, two things stood out for me
Listen intently with all your might

Empty your mind of all that you know, and don't solve the problem
Well at least not by me.
Listening.
Experts have written the long and short of this. I just like the Song.
I learnt it is listening with your Heart that counts the most.
When your heart is open to listen, your ears and eyes are intently focussed on every word and every gesture. You hear all the sighs & murmurs, the longings, the hopes, the rumbling, the fear, the peace and calm, even joy. You get sight of the human in front, and a peek of the soul within.

Emptying my mind is harder.
My mind has a mind of its own. It takes a whole lot, to calm it and stop it from going to fifth gear action mode.
Mindfulness and stillness is an acquired skill. I confess I have yet to master this but I have learnt to engage my mind to be still and wait, to be curious, to be aware and to be present. I learnt how to experience the moment and not jump ten steps ahead. Its' ok to just to follow and not lead. When I succeed it gave me freedom just to be. More importantly I am more effective as a coach.
So in essence I learnt that being in state of 'I don't know' just simply means
I don't know what you will say

I don't know what or how much it means to you

I don't know what moves you to put it all out

I don't know what you want to do with it

I don't know what the future will look like when you get it
These are Principles of IDK
What I know is
I am here for you. To spend the time in the way you need to

To hold the mirror to your– the better you can see yourself cos' my mirror has better lighting!

To poke you so that you feel it and want to poke back

To shine a light on what's hidden so that you can confront it or show it off

To share your joy, your pain, or nothingness if it comes to that

To support your journey that only you can shape
I am not here to prescribe a path. After all it's not mine.
What I am here for is to listen with my heart and clear my mind so that I can be there for you in that moment.