29th November 2022 CTT Webinar by Ann Betz
Register Now
9th June, 2022, 7:00 - 8:00 pm IST
About the Session:
The session explores the dynamics of coaching an organisation's CEO. This includes reflecting on questions such as:
• How is coaching a CEO different from coaching other members of staff?
• How do you build and sustain a good coaching relationship with a CEO?
• How do you achieve and measure results from the coaching engagement?

About the Speaker:
Dr David Thuku has been coaching CEOs and other senior executives for over a decade; and also worked as a senior executive in the Banking Sector for close to three decades. His executive leadership experience includes serving as a CEO and heading big departments involved in sales and business growth, risk management, operational rigour, human capital and stakeholder management amongst others.

Dr David is certified as an Executive Coach by the Academy of Executive Coaching (AoEC, UK) as well as the Centre for Executive Coaching (CEC, US). In addition, he is credentialled by the International Coaching Federation (ICF) as a Professional Certified Coach (PCC), served as President of the ICF Kenya Chapter in 2021 and currently serves as advisor to the ICF Kenya Chapter Board. He serves as a non-executive director on several Boards including Ecobank Kenya Ltd and Childfund Kenya Advisory Board.

Dr David holds a Bachelor degree in Education (BEd) from Kenyatta University, Master in Business Administration (MBA) from the University of Nairobi and Doctor in Business Administration (DBA) from University of Liverpool.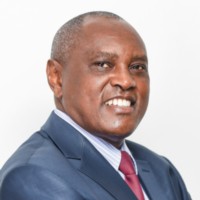 Dr David Thuku,
ICF PCC (Kenya)
Register Now