26th March 2021
CTT Webinar by Amol Nagar
- Mar 05th 2021
Speaker's Name : Amol Nagar, Director Manufacturing Operation & Supply Chain- GE Aviation
Session Date and Time: 26th March, 2021, 7:00 – 8:00 pm IST
Session Title: Operation Excellence Thru Lean & Digital Initiatives
About the Speaker: Amol Nagar is Director of Manufacturing Operations, Global Sourcing & Supply Chain for GE Aviation India Business & based out of Multi Modal Manufacturing Facility in Pune where aircraft engine components are being manufactured. Amol is a Graduate of Mechanical Engineering & Post Graduate of Manufacturing Engineering from IIT Delhi and started his carrier with Maruti Suzuki in 1998.
He has 2 decades of experience across Automotive, Engineering & Aviation Industries. He has been successful in taken industries from start-up stage to best in class maturity levels in the areas of new product development , setting up of green & brown field manufacturing facilities, strategic global sourcing & designing supply chain solutions, building organisational capability with track record of achieving some of the most challenging transformation initiatives in the industry within Quality, Delivery & Cost Goals.
In his Current Role Amol is driving adaptation of Lean & Digital technologies to enable predictable execution & optimisation of Processes & resources.
In the past, Amol has led Green Field Facility set up for Building 1000 Diesel Electric Locomotive in a JV between GE Transportation & Indian railways as a part of Make in India Initiative. Amol has also served as Full time Director in the Board of GE Diesel Locomotive Pvt. Ltd & GE Global Sourcing India Pvt Limited.
About the Session:In this webinar, Amol would be sharing his experience of Developing High Performance Team by empowering people, embracing change thus driving a Cultural transformation. Amol will also share his experience of achieving operational excellence by adapting Lean and Digital initiatives.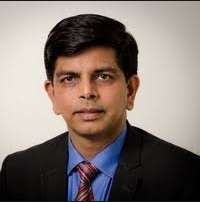 Amol Nagar
Director Manufacturing Operation & Supply Chain- GE Aviation